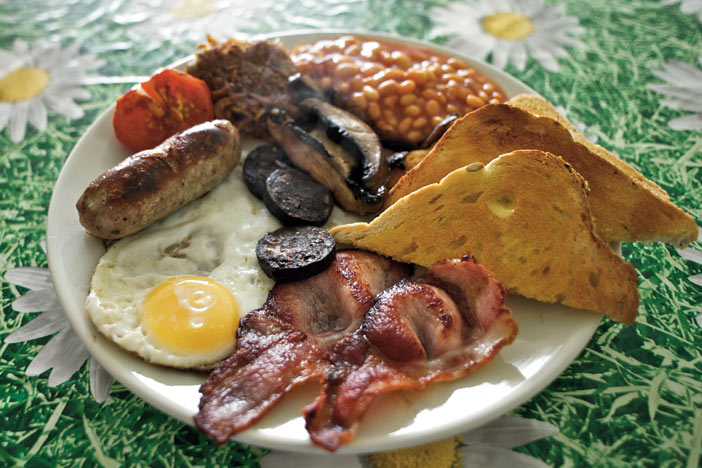 The old adage that breakfast is the most important part of your day is true to some extent but time and inclination don't always allow any of us to indulge in cooking when we first rouse ourselves from our pits.  Add various food sensitivities to the mix and the tendency to grab tea/coffee and a banana can be all too tempting if you are on a tight schedule. I have never really "done mornings" so cereal has often been a default setting. That choice, however, becomes severely limited when you are both wheat and lactose sensitive.
The traditional fry-up is not something I indulge in except on holiday and then only because its often the only wheat/lactose free choice.  Because GF bread can be so tasteless I don't even do eggs on toast that often.  I do make my own muesli because most of the GF branded cereals are ridiculously priced. Organics rolled oats as a base and throw in whatever takes my fancy. Dried fruits (any permutation from: chopped apricots, raisins, sultanas, cranberries, dried pineapple, papaya. dried apples, chopped dates etc)  toasted coconut, slivered nuts, seeds of various kinds including sunflower, pumpkin etc. It takes minutes and as good a good standby for late night snacks as it is for brekkie!
Late, leisurely breakfasts can be more adventurous. Two breakfasts that we indulge in here are gluten free pancakes and baked oats.
Gluten Free Pancakes serves 2-3:
7 oz GF flour
1 tbs sugar
1 egg
1.5 tsp baking powder
1/4 tsp xantham gum
1 tbs olive oil (melted butter)
12 fl oz Oat milk (or any milk of choice)
1/2 tsp vanilla extract
pinch of salt
method
Combine all of the ingredients with a wire whisk without over mixing – you may need to adjust liquid –  to make a thick batter.
Lightly oil a pan or bake stone.
Pour portions of the batter  onto the heated surface (medium to hot)
When first side is golden brown (bubbles will appear in the surface) flip them over and cook second side.
Serve with butter, fresh fruit and maple syrup. Grilled bacon is optional 🙂
Oatbake: serves 2 There are dozens of recipes online for oatbakes. Many include eggs. Here I have based my recipe on  various egg-free versions.
100gms oats (pref jumbo oats)
200ml oat milk (or milk of choice)
1  small chopped banana
1/2 tsp olive of coconut oil or melted butter
1 tsp ground cinnamon
2 tbs fresh berry fruits
1 tbs maple syrup or apple sauce
1/2 tsp vanilla
Method
Put dry ingredients into a dish and mix well
combine milk, oil, vanilla and syrup and add to dry mix
add fruit and bake at 200c gas mark 6 until golden brown at edges (20 to 30 mins)
serve with greek yoghurt and more berries (optional)