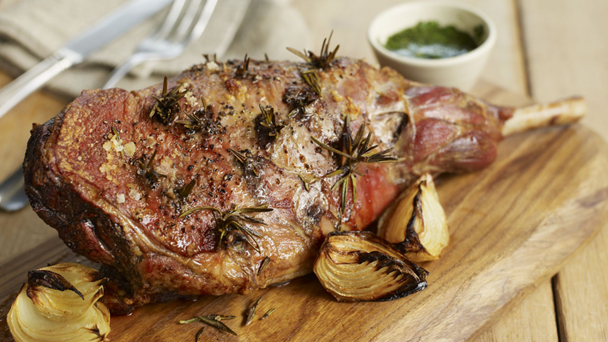 The traditional Easter roast -there are as many recipes for roast lamb as there are sheep in the fields of Britain. What to buy? Well boned joints are easiest to carve but lamb on the bone is always said to have the better flavour.  This is a slow cook recipe that will have the joint tender
How much? 2 to 2.5kg on the bone or 1.5 to 2kg boned will serve approx 6 people, Err on the heavier side to allow for shrinkage. (Lamb is a fatty meat so there will be some reduction). Its for this reason that lamb is also best cooked slowly.
Have your joint at room temperature (out of fridge for at least an hour)
If your joint is on the bone set oven at gas mark 3 or 170c  – 40 mins per pound (500g) and 40 mins extra
For boned joints set oven at gas mark 4 or 180c – 30 mins per lb (500g) and 30 mins extra
Season well (see below) and  remember to baste at least twice in the cooking time by taking the pan out of the oven and spooning juices from the pan over the joint.
Above for well done – maybe 5 mins per lb less time for medium. If you have a meat thermometer medium should read 60C and well done 70C.
whatever or however you cook it rest the joint (keeping it war) for 20 mins (covered with foil) after cooking which lets juices settle and makes for easier carving.
serve with traditional mint  sauce and roasted veg.
(NOTE: the above is the slow cook version. For  rapid cooking have your oven set at mark 7 or 200c and cook for 25 mins per pound approx .)
There are two main schools of thought on seasoning  a roasting lamb.
Plain cooking with just seasoning with salt and pepper before cooking
Piercing the skin at intervals with a sharp knife and inserting slivers or garlic and/or small sprigs of rosemary into the slits
You can baste with a little honey in the final hour but as lamb is quite sweet I find that a little cloying
there are other methods but this is all about the basics.
Veg  – Whether you roast your veg in the same pan as the meat is up to you.
Bear in mind the size of the joint, the space available and also cooking times.
Potatoes and parsnips take around 45 mins to cook but your slow cook lamb will take longer.
You can add the veg to the pan part way through or cook them in a separate pan. If you choose the latter but still want the lamb flavour then carefully tip some of the juices from the lamb dish in with the veg.