Yesterday we had the recipe for Simnel Cake but that may not be to everyone's taste.  It is traditional for Easter biscuits (or cookies to some. 🙂  ) to include dried fruit but not essential. I think this may be a Mary Berry recipe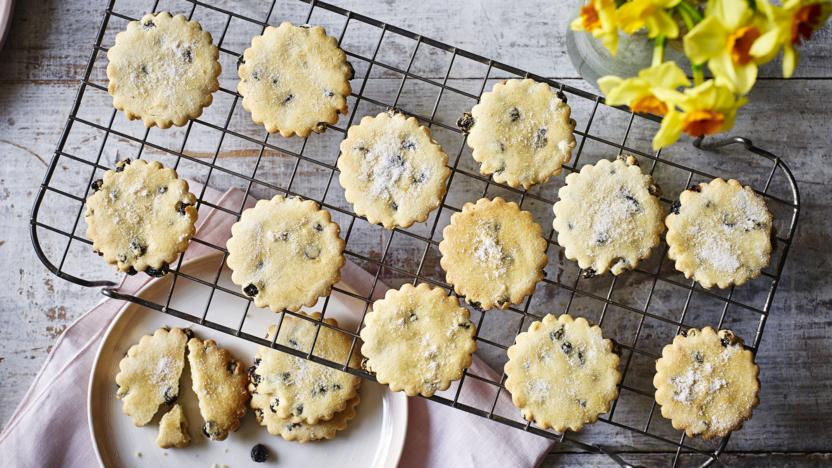 Ingredients:
100g butter
100g caster sugar
1 free-range egg
1 finely grated zest of 1 small unwaxed lemon
200g plain (or gf flour and 1/2 tsp xanthan gum), plus extra for dusting
50g currants (optional – see below) (for iced version see below)
1–2 tbsp milk
Method:
Cream butter and sugar until light in colour
add beaten egg with 1 tbsp of the flour (to prevent curdling)
stir in remaining flour, baking powder and spices and dried fruits and bring together into a dough
chill the dough while you are heating the oven to gas mark 6 or 180c
roll out dough and cut into rounds with a biscuit cutter (use a glass tumbler if you don't have any cutters)
place biscuits on baking sheets and cook for 10 to 12 mins (just golden)
put onto a wire rack to cool and dust with caster sugar.
Variations:
I am not fond of currants as I think they make confections bitter and tend to use other dried fruits such as sultanas or dried cranberries or blueberries.)  50g dried cranberries – or even  chopped crystalised ginger (controversial to some but yummy!)
If you prefer icing your biscuits iced rather than fruited  then mix 100gms icing sugar with 1.5 tbsp lemon juice (the lemon takes the sweetness out of the icing but you can use water if you prefer.  Either pipe patterns onto your biscuits or just put a small amount onto the biscuit and spread gently with the back of a teaspoon.
note illo taken from internet