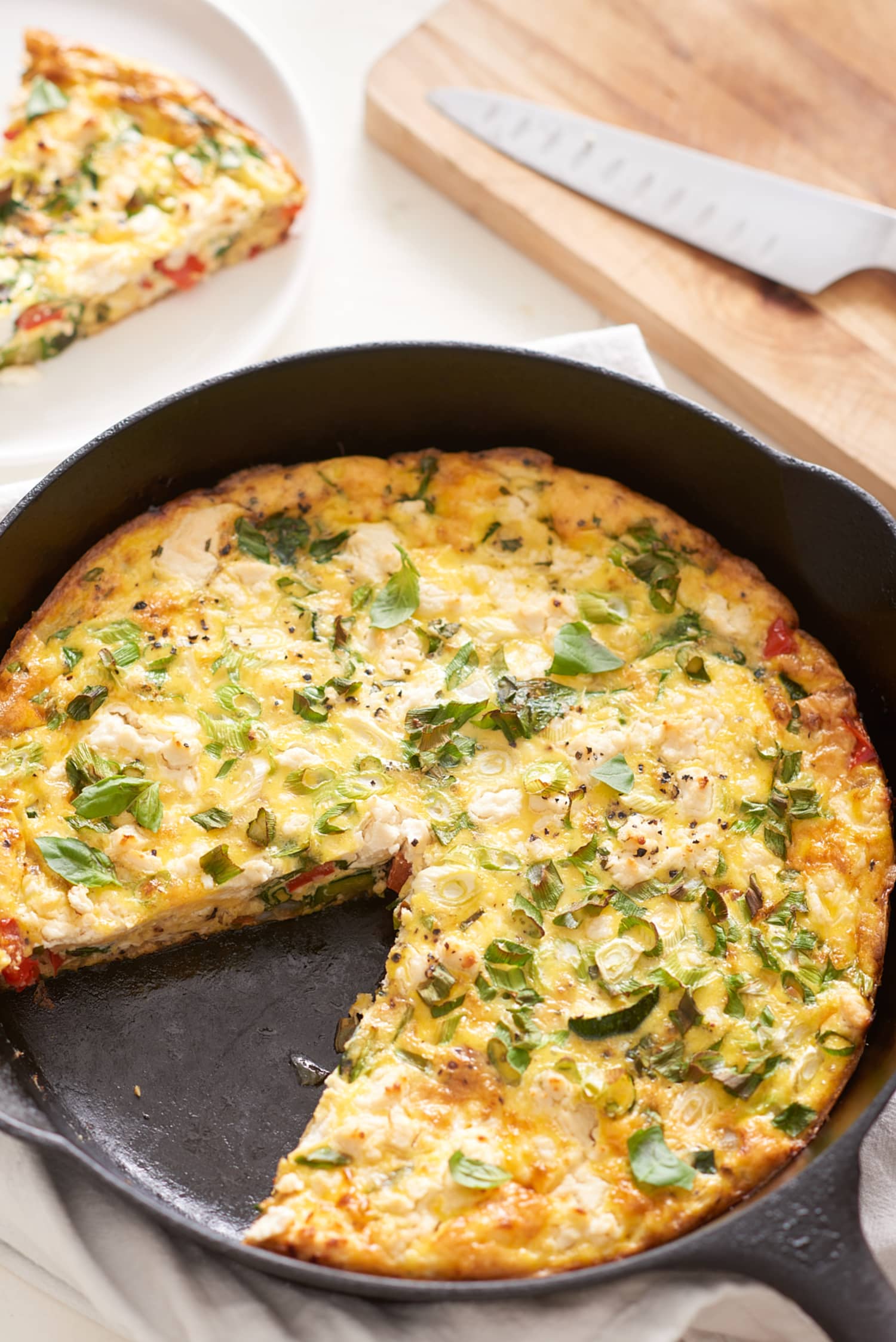 What can I say about frittata, spanish omelette, naked quiche!
The recipe is basically eggs and whatever you have in the fridge but here is a basic one to start with – and I am giving you a stove top method.
6 beaten eggs (see note 14/15)
large splash of milk
4 oz grated cheese (optional)
1 large sliced red pepper
4 to 6 slices of ham (or pre-grilled bacon if you prefer)
1 sliced tomato
1 tsp sweet paprika
1 onion (optional)
salt and pepper
Method
Put ham or bacon in an oiled frying pan with the smoked paprika and fry for 1 minute.
Add the pepper, if using
Reduce the heat and cook for 2 minutes with a lid until pepper is just soft.
Tip the mixture out onto a plate and set aside.
Put fresh oil in the frying pan, stir in the potatoes and fry.
Return ham to pan
I don't think a frittata is complete without onion, which you should slice finely and fry gently until cooked but this one is optional.
Pour beaten eggs over the top and add cheese (if used)
Lower the heat and cook for 2–3 minutes, or until just set on the bottom, drawing the eggs in from the side a few times.
Remove from heat and the tomato, and cheddar, if using.
Cook until set.
If the bottom seems to be getting overcooked but top is still runny then put the pan under the grill for a minute or two
allow the frittata to rest fro a minute or two then slice and serve
As eggs have been a little scarce recently  its a way if stretching out what you have.
Use fewer eggs and more filling and you can make what eggs you have go further. It will not slice as well – but hey – it still tastes good.
For an oven version do steps 1 to 7 but put all of the ingredients into an over proof dish and cook in preheated the oven to 220C/200C Fan/Gas 7 until it puffs and and starts to turn golden brown.
Many recipes contain potato but this is optional. Slice cooked new potatoes and warm them through. If you don't have new spuds then boil your potatoes, cut them into cubes and fry them until lightly brown. (This is to stop them falling apart).
What else you add is entirely up to the contents of your fridge. It is a fabulous way of using up all of those bits and pieces that are 'not quite enough for anything' on their own : Courgettes, mushrooms, asparagus, leeks, peas, broccoli, salmon, sausage, chorizo…  (but not necessarily all together 🙂  )