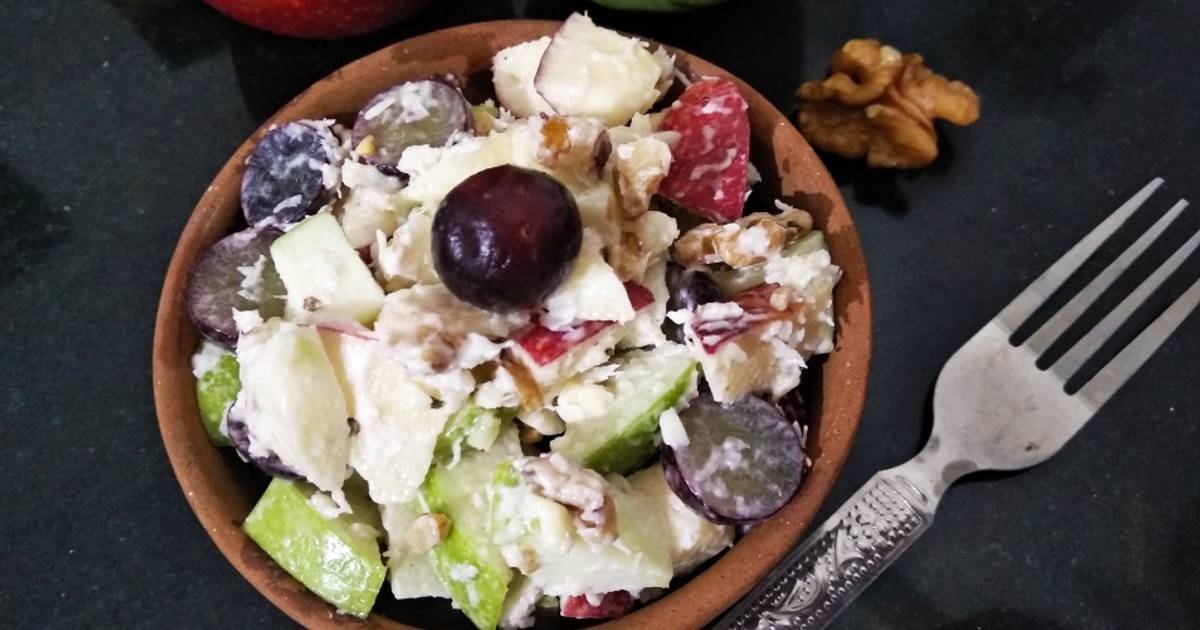 Not much cheese left? An easy way to make it go further for a main meal is this no-cook recipe. Yes its only march but the sun is out and its a promise of summer to come. It was always a favourite with my kids way back in the mists of time and brilliant in that as a working mum it took so little time to prepare.
This is  very similar to a Waldorf salad . The variations are only limited by your imagination. I am giving you  the basic recipe that will take minutes to prepare, but the variations on this theme are only limited by your imagination and whatever is in the fridge!
Serve with a green salad, or if you have starving hordes to feed you can have chips or baked potato accompaniment. Or else mix in some cold cooked pasta.
Basic Ingredients:
1 large eating apple (well washed)
2 oz cheese
1 tbs mayo
1 tbs plain yoghurt
little white vinegar (optional) You can use lemon juice if preferred
Method
Mix mayo and yoghurt together. If it seems thick gradually add a little vinegar or lemon but take it slow to prevent curdling.
Core the apple but leave skin on.
Cut apple and cheese into cubes.
Mix together making sure the apple is well coated to stop it browning.
If you want a little more adventure then here is where you can get creative.
You can add (but not necessarily all at once!)
Diced celery
Chopped walnuts
Grapes
pomegranate seeds
Seedless raisins
dried cranberries
Sunflower seeds (hulled, naturally)
Pumpkin seeds
chopped red onion or spring onion
Instead of cheese you could use:
diced hard boiled eggs
Diced cold cooked sausage
Tuna chunks
ham
You can also spice up the mix with a dash of paprika or cinnamon; freshly ground pepper, a little fresh chopped parsley. Or even crushed chilli flakes (but go easy!)