Another versatile recipe aimed at the new cooks. This one has the added advantage of being very low calorie! A staple for me on a 5:2 diet days.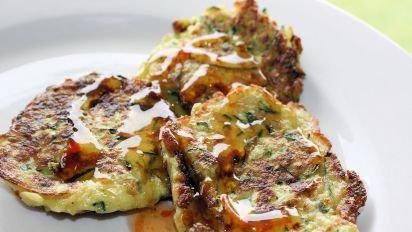 Ingredients:
1 medium courgette
1 medium carrot
1/2 red onion (optional)
3 to 4 tbsp plain flour (for GF use std gf flour or rice flour)
1 heaped tsp cumin (or more to taste)
1 tsp coriander (more if you prefer)
2 cloves of crushed garlic
1 tsp sea salt
Freshly ground pepper
1 beaten egg (2 eggs if the mix seems stiff)
tbs sweet chilli sauce (optional – only if you like really want 'spicy')
Optional – 100g ricotta cheese or grated feta (you can uses cheddar but this will bump up the calories)
Method:
Grate veg and squeeze out as much of the moisture as you can.
Mix all ingredients until well-combined.
spoon 1 tbs onto an oiled griddle or frying pan – medium heat
spread the mix a little with back of the spoon so that it cooks evenly
you can probably get 3 fritters cooking at one time
when it starts to brown on underside flip it over and cook second side
Serve with some mayo (preferably garlic mayo) or a tomato salsa and heaps of green salad.
These are more filling than you might think but if you have large appetites to fill then serve with some couscous or similar.
Note: illos used are stock photos